INCOMMUNITY EMERGING ARTISTS
connecting individuals with disabilities to their communities through
community arts initiatives
WHAT WE WANT OUR COMMUNITIES TO ACHIEVE
The goal of InCommunity Emerging Artists is to connect individuals with disabilities who are underserved, to their communities through community arts initiatives.
From a project painting a mural on the exterior of a local pizza restaurant, to workshops exploring African Hand Drum rhythms in the neighborhood park, we use the arts to enrich the lives of individuals with disabilities and build fellowship across our communities. We can create a stronger community for all when we focus on our abilities, not our disabilities.
InCommunity Emerging Artists is a multigenerational yearlong program offering youth art projects for young adults ages 15-23 with intellectual and developmental disabilities (I/DD) and Artist-In-Training Internships to adults 24 years or older with a disability.
ABOUT INCOMMUNITY EMERGING ARTISTS
Youth Arts Projects are offered to young adults ages 15-23 with intellectual, developmental, and physical disabilities. The projects give high school students the opportunity to explore creative practices alongside professional artists through community art initiatives and projects. Project workshops occur from 9:00 AM to 1:00 PM on select Saturdays during the school year, and as weeklong workshops during summer break.
Our workshops encourage fellowship and we ensure that each student receives guidance from our artist facilitators while exploring practices such as mural painting, hand drumming, dancing, and singing. The program provides individuals and their families with an inside look into InCommunity's day programs, with the possibility of transitioning into a program upon high school graduation.
The Artist-In-Training Internship serves emerging adult artists with developmental, intellectual, or physical disabilities, providing artists with access to studio space, instruction from local artists, a featured Art Show and additional trainings based on the needs of each individual intern. Individuals must be 24 years of age or older to apply for the internship.
Interns will receive instruction from an arts educator and work alongside art facilitators with the goal of producing and presenting a working portfolio, while participating in the facilitation of the Youth Arts Projects.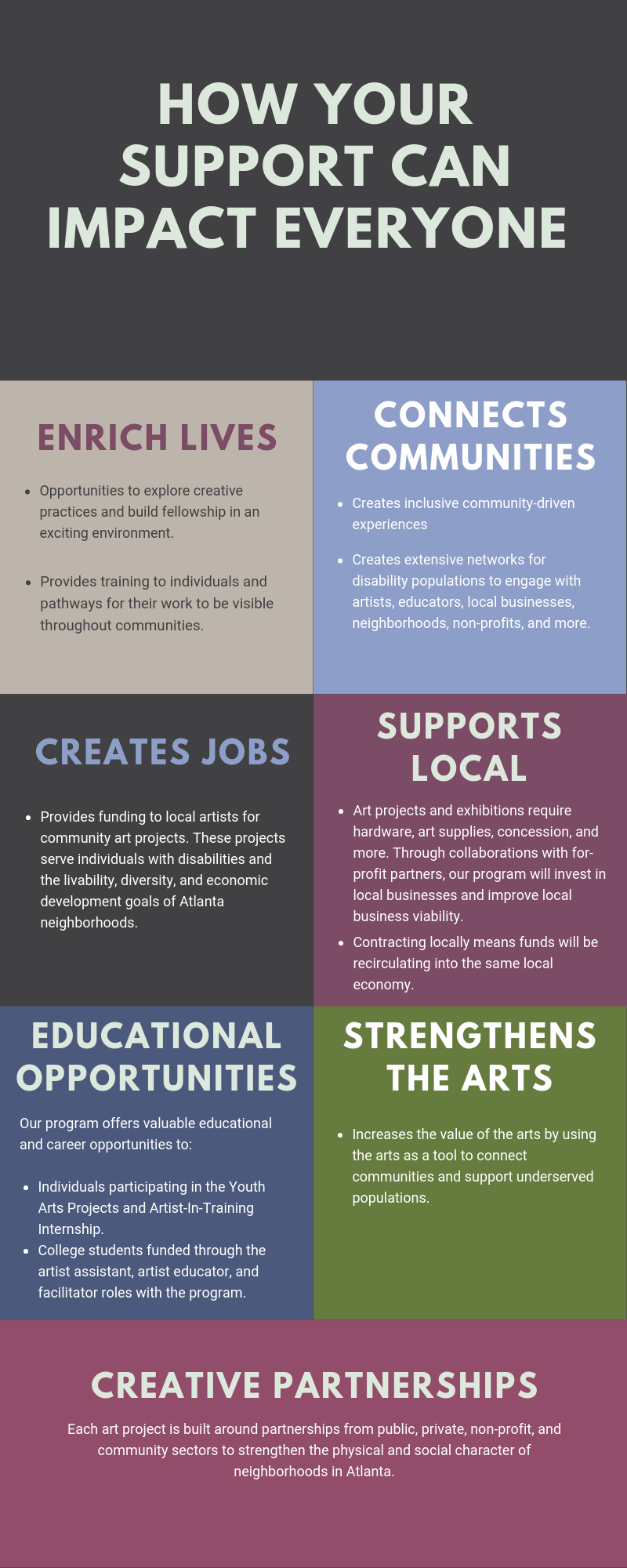 HOW THE COMMUNITY CAN HELP
Our goal is to raise $30,000 to cover the cost of starting InCommunity's new program. All funds raised will go towards our 2020-2021 InCommunity Emerging Artists. Any additional funds will go towards increasing the cap on our Youth Arts Projects or Internships.
Every contribution helps! Whether the donation is $10, $50, $250, or more, your support makes an incredible impact and is tax deductible!
Interested in Becoming a Community Sponsor for the InCommunity Emerging Arts Program? Check out our sponsorships and benefits!
Sponsorships
COMMUNITY LEADER SPONSOR – $5000.00
Pick 2 benefits from Group A and 1 benefit from Group B

Logo representation on Emerging Artist Program Media (social media, website, Art Show programs, flyers)
20 tickets to our 2021 Art Show
COMMUNITY SUPPORTER SPONSOR – $1000.00
Pick 2 benefits from Group A

Logo representation on the listed Emerging Artist Program Media (website, Art Show programs)
4 tickets to our 2021 Art Show
Selected Community Benefits
Group A Benefits
Program newsletter representation – Spotlight "Business of the Month" in our newsletter
Social media advertisement – Monthly social media blast for your business

Materials/Hardware – Our program will purchase materials for our projects through your art supply store

Food/Beverage – We'll make sure your products are available for purchase at our 2021 Art Show
Host a Youth Arts Project – Become a venue partner for one of our six annual Youth Arts Projects
Group B Benefits
Name our 2021 Annual Art Show (1 available)
Present short welcoming and company overview at our 2021 Art Show (1 available)

Year-long logo representation for all InCommunity Emerging Artists video media and signage (2 available)
Have a small mural painted on the inside or outside of your building through our Youth Arts Projects (2 available)
None of our benefits fit your needs? Not a problem! Feel free to reach out with other ways we can partner with you!
Originally founded in 1979, InCommunity, a 501 (c)(3) non-profit agency headquartered in Atlanta, was created to provide community-based services and support to people with developmental disabilities and their families. For more than 40 years, InCommunity has been embracing the abilities in all of us, building an outstanding reputation in Georgia for innovative programs and willingness to take on challenging support situations for people in their communities. Currently, InCommunity has more than 650 employees who provide all levels of support in the community to people with a variety of needs; including residential support, employment services, respite care, family support, in-home care, and day programs. To date, InCommunity has provided support and service to more than 10,000 Georgian community members.